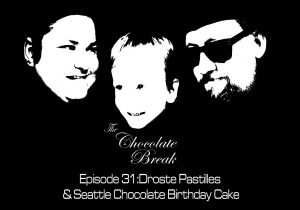 Another episode with Miles, however we start to see he's quickly losing interest in this whole, sordid after hours affair and is getting ready to fall asleep.
Seattle Chocolate Happy Birthday – United States
Confetti? Colors! Fun! Like Funfetti frosting, cake batter & frosting.
Get some here –http://bit.ly/seattlechocolate
Kit – 4 out of 5 stars
Hans – 4 out of 5 stars
Droste Pastilles – Holland
Good for those who yearn for the scent of burning motor oil in their mouths. We abhor this.
Get some here – http://bit.ly/drostepastilles
Kit – 0 out of 5 stars
Hans – 0 out of 5 stars