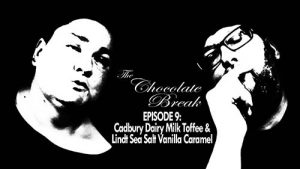 We meet the infamous Lindt Chocolatiers once again in the octagon as well as British powerhouse Cadbury in this battle royale of life, death, and chocolate. A real struggle for dominance in a land of despair.
Cadbury Dairy Milk Toffee – United Kingdom
Although Hans felt a slight uvula response, they both enjoyed this one. Toffee was a nice ratio to chocolate.
Cadbury – https://amzn.to/2MqCHgI
Kit – 3 1/4
Hans – 3 1/2
Lindt Creation Sea Salt Vanilla Caramel – Switzerland
Looking for vanilla in this one was a matter of outfitting the tongue with hip waders to get through all the sweetness.
Lindt – https://amzn.to/2RH6Oq2
Kit –  2
Hans – 2