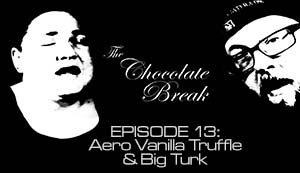 Well, here we are. I haven't done an update on this site since late January and it's March. Hopefully I can crank a few of these out before Miriam wakes up.
These are yet two more varieties found up in Canada – I mean, who doesn't like Canada? I think the Aero was from Walmart SuperCentre in Richmond, BC and the Big'R Turk from a little convenience store that had a guy with a medallion and a hairy chest on the way to the border. Let's check 'em out.
Aero Truffle: Vanilla Truffle – Canada
Ladies and gentlemen, this made us wretch. Just like eating a stinky vanilla candle smells like. It hurt.
Get an Aero Truffle: Vanilla Truffle – http://bit.ly/aerovanilla
Hans – 0 stars
Kit – 0 stars
Nestle Big'R Turk – Canada
Turkish Delight is a really amazing and flavorful confection. Like a jelly covered in chocolate that has a lots of nice spiced flavor. Well, this one was like a knife in the eye of that concept. Take a Swedish Fish. Cover it in chocolate. Nothing wrong with chocolate covered Swedish Fish – I mean that's great and all, but that is NOT what Turkish Delight is. Period!
Get some Big Turk! – http://bit.ly/bigturk
Hans – 3 stars
Kit – 4 stars