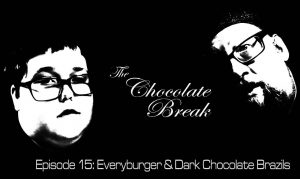 Well hey look – it's Andy! This is his very first appearance on The Chocolate Break and he did an excellent job; watch him weave his magic…
Bourbon Everyburger Burger Shaped Cookies – Japan
A Japanese company called Bourbon making hamburger shaped little chocolate cookies. What the hell?! Thank the Scissors of Hope for their true cuts. Weird – they don't taste like bourbon or burgers. But they do taste good.
Get your Everyburgers here – http://bit.ly/everyburger
Andy –  3.5 out of 5
Hans – 3 1/2 out of 5
Beech's Fine Chocolates Dark Chocolate Brazils – UK
Found at a little Canadian store specializing in British things – many of which get a discount as they're expired. These are succulent and classy. Lotsa chocolate!
Get some Beech's Dark Chocolate Brazils – http://bit.ly/darkchocolatebrazils
Andy – 4.5 out of 5
Hans –  4 out of 5