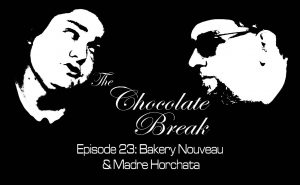 Another round from the Northwest Chocolate Festival! Sooner or later I think you'll be seeing a whole slew of varieties from this event – the companies were very kind and gave us so many samples. Not only that, they're really good! Let's check out two more!
Bakery Nouveau -United States
We want to be best friends with the guy who gave us these. Seriously. Both varieties we sampled were top notch and just extraodinary!
Check them out here – http://bakerynouveau.com/
Kit – 5 out of 5
Hans – 5 out of 5
Madre Chocolate Horchata – United States (Hawaii)
Dairy free bar with horchata flavor. Leaps and bounds closer to horchata than the last one we tried.
Kit – 4 out of 5
Hans – 3 out of 5