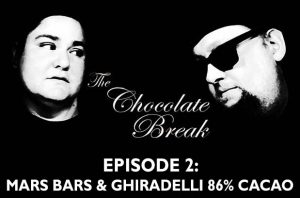 In our second episode aired on August 3rd, 2018, we announce our intention to make this a regular program and try our first pair of found chocolate. We start to learn the flavors we both like – and dislike.
Mars Bar
We oft times journey northward to the magical land of Tim Hortons and maple syrup – Canada. You'll be seeing a lot of Canadian chocolate as the series progresses. The Mars bar  is one of them.
Kit – 2 stars
Hans – 1 3/4 stars
Total – 3 3/4 stars
Mars Bars – https://amzn.to/2OCuWna
Ghiradelli 86% Cacao
Kit is from the Bay Area and during our courtship, one place we visited was a big Ghiradelli store. It was pretty epic and they had these tornado or hurricane milkshakes where you could get a square of their chocolate blended into it. Was pretty amazing stuff. This is a dark chocolate bar.
Kit – 0 stars
Hans – 1 star
Total – 1 stars
Ghiradelli Bars – https://amzn.to/2DhPPlV