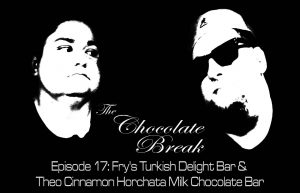 Since having the Big Turk – the basic slur of a fine confection known as Turkish Delight, I've been hoping to find some for Kit to try. I mean if you've tried Turkish Delight, you know that it tastes nothing like chocolate covered Swedish Fish. I mean really!
Fry's Turkish Delight – United Kingdom
A lovely melange of cinnamon, clove, nutmeg and other flavors in a jellylike, chocolate covered package. Kit hated it.
Fry's Turkish Delight Bar – https://amzn.to/2CML0Rc
Kit – 0 out of 5 stars
Hans – 4 1/2 out of 5 stars
Theo Cinnamon Horchata Chocolate Bar – United States
Hopes were high, but this failed to deliver. Inauthentic and didn't evoke horchata; would you put chocolate syrup in horchata?
Theo Cinnamon Horchata Milk Chocolate – https://amzn.to/2O8lEiJ
Kit – 1 out of 5
Hans – 0.25 out of 5